ONE Corvair Rebuilt Carburetor-any year or style 1960-1969. $25 off for a Core!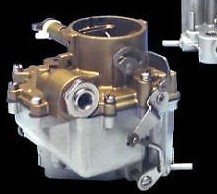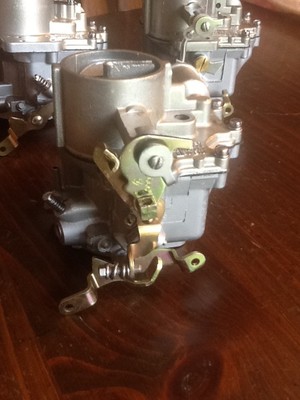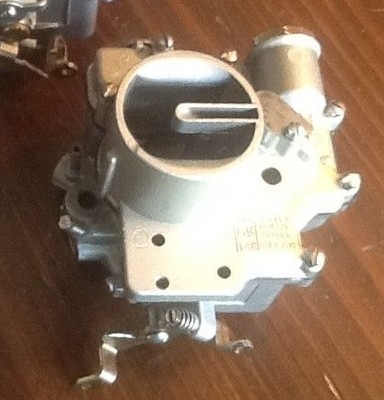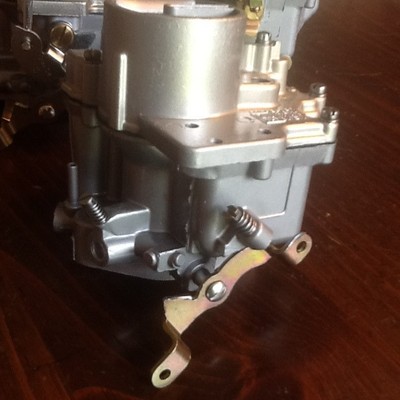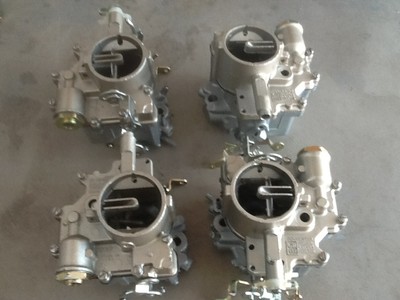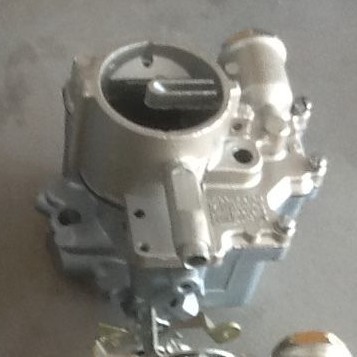 This is NOT the best auction for you if you need a PAIR of carburetors. Check my other auctions for them, as they will save you a few dollars on a pair and the second one is shipped free. ALSO, you have to tell me which year and style you need before I can ship one. You can add a comment when you check out or send me a separate email, but you MUST be able to read this and do that, or your payment will just sit in paypal forever and ever until you do :-). The photos show 1960 through 1969 carbs to help you identify what you need. The main picture is for '64-'69. The carb with nothing in the top is a 1960, the one with a manual choke is 1961. The next, with a "pointy" choke cam is 1962 and the one with a rounded cam bottom is 1963. But, it is okay to call or write to be sure.
If you are tired of reading a lot of disclaimers attached to ebay auctions, you have finally found one where there are none. This is a Rebuilt Premium Level World Famous Wolf Enterprises Corvair Carburetor. You get ONE carb to go with your good one. Just select the year and style of Rochester H (1960, 1961, and secondaries) or HV (1962 -1969) to be built to match your good one.
Your new carb will perform to stock requirements to match your other one. It includes the best gaskets and parts available and is set up and adjusted to eliminate most, if not all, synchronization procedures (I can't match it to your other one since I don't have it, but will set it where the factory intended, so you can adjust you other one to it).. Unlike others you can purchase, everything on this will be matched and correct for your engine, including idle emulsion and vent tubes, enrichment circuit jets, main metering jets, all air bleeds, and of course, venturi cluster (there are 28 different ones). All fuel contact parts are "ethanol proof". I am the only rebuilder providing NEW SS accelerator pump levers and new bright plated rods to take up ALL of the slop in your carb linkage system. The carb will have the correct .086" fuel inlet seat with Viton tipped inlet needle. Many other suppliers and re-builders seem to be using a generic .101" fuel inlet seat (originally for a Rochester 2BBL carb) which will result in a rich setting (air pollution and waste of gas and hard to sync) regardless of your adjustments (and it won't match your other one). The choke shaft cam, which is usually loose, has been modified and replated for an accurate choke setting. I will jet it at the stock size if you are not sure of the size you have, but it would be safer to pop the top and check (it is stamped on the top of the jet as a 46 - 51, or larger if it has been rebuilt).
I install new 18-8 Stainless Steel Fasteners and a Lifetime SS Fuel Filter Screen ($13 retail value) in place of the antique sintered bronze cylinder. The carb is recolored in OEM tones like the photo (yes, they really did look like this from the factory) and comes with base gaskets and air cleaner gasket. BUT, if you prefer that it not be recolored so as to more closely match your other one, just let me know. It usually only takes about a day to ship after payment is received. There are just too many differences between years and styles to build too far ahead, and I test them during building and before shipping. If you want to send a rebuildable core from the same year that you purchase, before or after receiving your new carb, it is worth $25 off the price.
If you order elsewhere, you will probably get something off the shelf that might work. I know, because I am sometimes asked rework other sellers' carbs for buyers who were unable to get a good idle or refund. (You might be shocked to learn that some others reuse the old fasteners, paint the old shafts, don't remove throttle or choke plates when cleaning (the shop manual says not to, but it is not possible to clean the shaft area if you don't), and use incorrect parts from just about any year; so ask good questions where ever you decide to buy). If you buy some carbs that still have the stock shafts (at least 50 years old, remember), you can bet they ARE going to have an air leak. FWIW, there are over 100,000 different parts combinations for these because of all the changes GM allowed (I am a retired high school math teacher), so be sure that your rebuilder is an expert on the differences. WARNING - if you buy what is called an ROS (Rebuilt Old Stock), don't expect too much, because most of them were rebuilt to be "generic" and work with any year. This meant plugging enrichment circuits, base vents, etc. so that a later model would work on an early engine. The only problem with that is that the rebuilders didn't realize that it would no longer work correctly on the later engines.
This carb is fully guaranteed to work. If you are not happy for any reason, just send it back for a full refund. (Carbs fit engine sizes 80, 84, 98, 102, 110, and 140 HP. Some common search mistakes are: carburator, rodchester, 1BBL, and spider). This will not work on the Spyder 150 and 180 HP Corsa engines, but I usually have that carb, which is a Carter YH, for sale in another auction. AND PLEASE, if you have any concerns about delivery time or anything at all, check with me before bidding. Carbs in this auction do not include the plastic choke vacuum pull offs or plastic base insulators as most customers to not need them. If you do, please let me know and I can add them to your invoice or bill separately. The chokes are $14 each, and the insulators are $5 each. I do not post or share questions and answers on eBay for your privacy, so don't be afraid to ask. Thanks for taking the time to read this and for considering Wolf Enterprises, as we will be here to help you out when other part time eBayers and carb rebuilders have disappeared.
AGAIN - PLEASE include the year of the carb you want in your payment information or send me a separate note as soon as you pay using the "contact seller" link in the auction. This will reduce the lead time significantly as each year carburetor is DIFFERENT and I can't even start on it for you until you tell me the year. I might even be able to get it out the next day if you will help me out with this. Thanks for your patience in reading all this because I think it is important to be aware of what you are getting.
---
On Jul-07-06 at 11:11:22 PDT, seller added the following information:

After purchasing, pay instantly with your credit card through PayPal!
| | |
| --- | --- |
| Returns Accepted | Returns Accepted |
| Item must be returned within | 14 Days |
| Refund will be given as | Money Back |
| Return policy details | Carbs can be returned for any reason for a refund. If on the very rare possibility they should be defective, I will also refund your postage. |
| Return shipping will be paid by | Buyer |
| Restocking Fee | No |
| Other Part Number | models H and HV - Primary or secondary |
| Placement on Vehicle | Rear |
| Surface Finish | Painted, Plated and OEM finish |
| Warranty | Yes |
| Part Brand | Rochester |
| Country of Manufacture | United States |
| Type | Models H and HV |
Subscribe in a reader